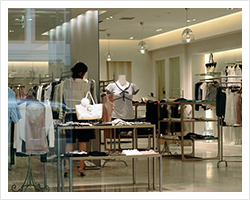 For retail and commercial facilities, it is important to create an environment for customers to enjoy shopping comfortably.
However, there are quite a number of cases where necessary air-conditioning facilities and refrigerators are major cost factors.
Realize a shop environment for customers to be comfortable while cutting costs by installing our ball type automatic heat exchanger cleaning system "XAC."

In large commercial facilities, etc., air-conditioning facilities for an entire building are also large.
There may be many persons in charge who are troubled by high electricity costs. If electricity costs are higher than before with less-than-expected coolness, contaminants may have accumulated in the tubes of equipment.
If the adhesion of contaminants is left as-is, the operating efficiency will increasingly lower, and a comfortable environment for customers will not be maintained.
Besides, costs may further increase.

If the efficiency is extremely low with increasing power consumption, large amounts of scale components and other contaminants may have already adhered to the inside of the tubes.
In that case, the contaminants cannot be removed completely even if "XAC" is installed.
Adhesion of new contaminants can be prevented by installing "XAC" after performing chemical cleaning once.

We have heard from many satisfied companies in which "XAC" has been actually installed. Here we introduce an installation example.
Oita shop of large commercial facilities A – Gas absorption type water cooler/heater for air-conditioning –
Company A had performed brush cleaning on air-conditioner condensers and absorbers every year since its opening, but the fuel consumption was increasing sharply year after year.
Then, chemical cleaning was performed in the spring of 2006, with the result that the annual gas consumption decreased by approximately 19% compared with the previous year.
In order to maintain this highly-efficient condition, "XAC" was installed in the spring of 2007.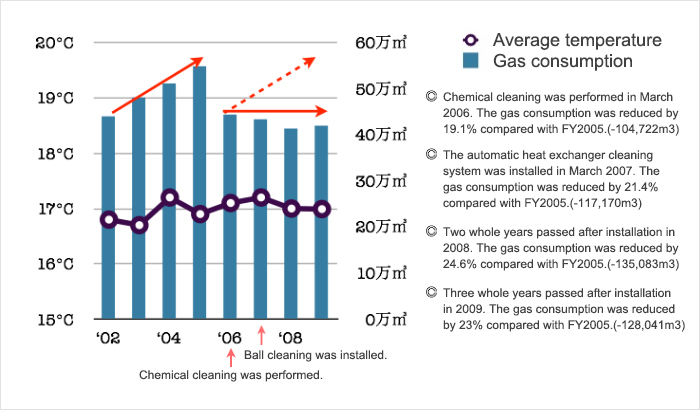 As shown in the graph, the gas consumption after installation remained at the same level.
The annual gas consumption in FY2009 was reduced by 23% compared with FY2005.
It can be converted into approximately 8,000,000 yen and CO2 reduction as much as approximately 250 tons.
Upon receiving this effect, company A has performed tube cleaning by "XAC" at multiple shops since then.