Since factories and commercial facilities are designed so as not to leave wasted space, there may be many cases where there is no room for installation of equipment and devices for maintenance. Actually, some companies say that they want to install the tube cleaning system, but there is no place to set large machinery...
However, our ball type automatic heat exchanger cleaning system "XAC" requires no large space to set machinery because its main body and each part are very compact. It can deliver high performance while saving space.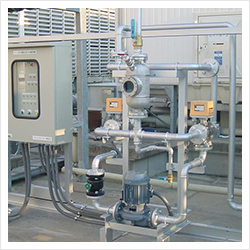 On heat exchangers, which are also referred to as steam condensers or other condensers, or coolers, etc., if cleaning and maintenance are not performed, contaminants will adhere to the inside of equipment, and the operating efficiency will lower.
In fact, however, there seem to be many factories and companies continuing operation as is while concerned about the worsening of efficiency because they do not know about appropriate cleaning methods and maintenance timing.
Here, Frontier Technology provider of tube cleaning and maintenance of heat exchangers, refrigerators, and water coolers/heaters introduces points to judge appropriate maintenance timing.
Advantages of easy-to-install "XAC"

Flexible layout of the main body unit

Downsizing is possible, and also the layout of the main body unit is flexible. It can be installed even in a small space.

Multiple spec

Multiple refrigerators can be controlled by a single system. Therefore, not much space is taken up.

Control panel usable for up to 6 units

Up to 6 units can be cleaned continuously by a single system. This allows space-saving installation even for large-scale facilities.

"XAC" can be used for various machines coming with shell & tube type heat exchangers on the tube side of which cooling water flows.
Consult us because the main body unit can be laid out freely.
Devices allowing installation

Turbo refrigerators
Absorption type refrigerators
Absorption type water coolers / heaters
Turbo compressors, etc.

"XAC" can be installed in various factories and facilities.
The larger the scale of factories and facilities, the more easily they are influenced by rising fuel consumption and periodic cleaning costs with the adhesion of scale, slime, sludge, and other contaminants, while the more advantageous the installation of automatic cleaning becomes in terms of cost accordingly. Please be sure to consult us.
Facilities allowing installation

Manufacturing and processing factories
Commercial facilities
Cold storage warehouses
Chemical plants, etc.