Frontier Technology aims to both reduce costs for clients and help clients implement environmental measures by providing XAC.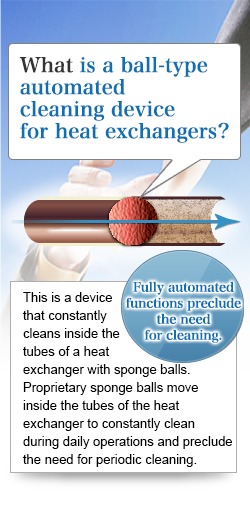 Thank you for visiting the website of Frontier Technology, a company involved in the cleaning and maintenance of heat exchangers, refrigeration devices, water coolers/heaters, steam condensers, and condensers. We are a member of the Ishibashi Manufacturing Group, which boasts a history of more than eight decades in business and exceptionally advanced technological capabilities.
The accumulation of scales, slime, and sludge in the narrow tubes of heat exchangers (coolers) leads to a reduction in operating efficiency and an increase in fuel consumption. In addition, this contamination causes the narrow tubes to corrode. If neglected, this corrosion will effectively shorten the service life of the machinery. Regular cleaning procedures based on the use of brushes and chemicals involve huge costs. In the meantime, efficiency declines until the next time a cleaning procedure is undertaken.
XAC, our proprietary ball-type automated cleaning device for heat exchangers, is exceptional for achieving the automation of physical cleaning by passing sponge balls through the narrow tubes of shell-and-tube heat exchangers with the help of the cooling water flowing inside such equipment. Since contamination is eliminated before affecting the inner walls of tubes, operating efficiency is maintained and corrosion of the narrow tubes is avoided. Maintenance simply consists of replacing the proprietary balls; adoption of this system will semi-permanently do away with the need for cleaning tubes. Significant cost savings over the long run can be achieved.
Energy-saving measures are something that all companies aim to implement effectively. Our XAC system is a maintenance tool that can implement these energy-saving measures and reduce operational costs at the same time. It would delight us if we could be of use to our clients and play a part in the implementation of environmental measures through the XAC system. We invite the managers and operators of factories, chemical plants, and commercial facilities where large-scale climate-control and refrigeration systems are installed to consider us as your solution provider.

Copyright © Frontier Technology Co., Ltd. All rights reserved.